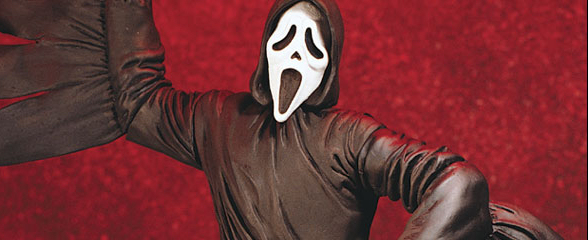 Welcome to Scream-Trilogy, your #1 source of news and info on Kevin Williamson & Wes Craven's Scream 4.
While today marks our official grand opening, we've existed in several temporary forms throughout the past decade, notably as Scre4m.com which featured complete coverage from pre-production to DVD release of the Scream-Team's werewolf flick, Cursed.
In the past 2 years, we operated low-key to chart the progress of Scream 4's early, tentative days as an on-again, off-again possibility.
As soon as the project got the green light however, we knew it was time to get serious, so we went away and formulated an extensive plan to keep Ghostface fans entertained for several years to come – not only as Scream 4 is shot, chopped and released into theaters, but the probability of Scream 5 & Scream 6 – the progressive and conclusive chapters of Williamson's second trilogy in the slasher saga.
We won't be treating the original trilogy as yesterday's news either, as a whole host of materials and factoids will be distributed on a regular basis to feed the nostalgia machine and step up to show just how innovative and interesting those films were.
Our general ethic for the site is to be on our professional best behavior, while also being able to have fun and express our thoughts – such as the nature of a blog-style format encourages.
All in all, the next year or two is going to be a rollercoaster ride for horror fans, so lock yourself in and enjoy the ride – here at Scream-Trilogy.net.