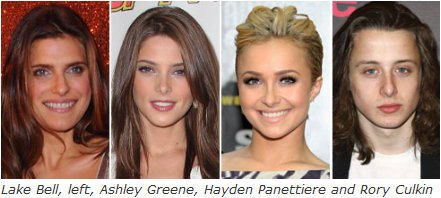 We can't remember any time the Scream Team made a habit of officially announcing cast members themselves, so since The Hollywood Reporter have broken this via their pop culture blog Heat Vision, it's as legits as Jamie Lee's tits. And for you, news made much more thrilling when matched against the Character Breakdowns we recently posted.
Will Ashley Greene, Hayden Panettiere join 'Scream 4'? (exclusive)
By Zorianna Kit and Borys Kit

Dimension is taking the first steps to casting "Scream 4," which is heading toward a July start date.

Lake Bell is in negotiations to join the franchise, and offers are out to "Twilight" actress Ashley Greene, "Heroes" star Hayden Panettiere and Rory Culkin ("Twelve") for key starring roles.

"Scream 4" reunites Wes Craven with Kevin Williamson, who kicked off a horror- movie revival with his "Scream" script in 1996. The story brings back original cast members Neve Campbell, David Arquette and Courteney Cox, though the new flick is seen as a passing of the baton to a new generation of slasher victims, with Williamson already under contract to write a fifth installment.

If deals are concluded, Greene would play Campbell's cousin Jill, essentially the heroine of the movie, and Panettiere would play her best friend, a nerdy film geek. Culkin would play a potential love interest for Jill.

Bell is negotiating to play a police officer who knew Sidney (Campbell) from high school.

Casting is proceeding slowly because Craven and Dimension are not sending the script to agencies in order to protect its secrecy. With only character descriptions, actors are having a difficult time deciding whether certain roles are for them. Reps for the actors declined comment.

Craven, Williamson and Iya Labunka are producing the feature, which is slated for an April 15 release. Original producer Cathy Konrad is not aboard the production and is suing the Weinsteins, alleging that she was cut out of "Scream 4."

The film will shoot in incentive-rich Michigan. The original was shot in Santa Rosa, Calif.

Bell, repped by UTA and Joannie Burstein, most recently was onscreen in "It's Complicated." She voices a role in "Shrek Forever After," which bows today, and stars in the upcoming features "A Good Old Fashioned Orgy" and "Little Murder."
So – Greene = Jill, Bell = Deputy Hicks, Culkin = Charlie (maybe). We're particularly excited to see Panettiere as Kirby. Think about it, the only way to make a Randy substitute equal up is to put the character's essence into a female body. A very, very hot body.
Source: Heat Vision