There was some juicy material cut from Scream 3, but none juicier than the unseen real ending. We don't mean that alternative climax with Roman throwing furniture around, we mean the actual last scene of the movie. Sidney decides to leave her door unlocked – the end. Not exactly. It originally went on longer, as we see the surprise movie that Gale, Dewey and Kincaid told Sid to come and watch. Drumroll…
It was the rest of Randy's videotape. And here's a screencap, pulled from a brief shot that made it into a segment on Entertainment Tonight way back in 1999. Will you see that the TV is in Sid's house that she saw the news of Sarah Darling's murder on, as opposed to the ceiling-mounted TV that Randy Meek's dubious "trilogy rules" played on.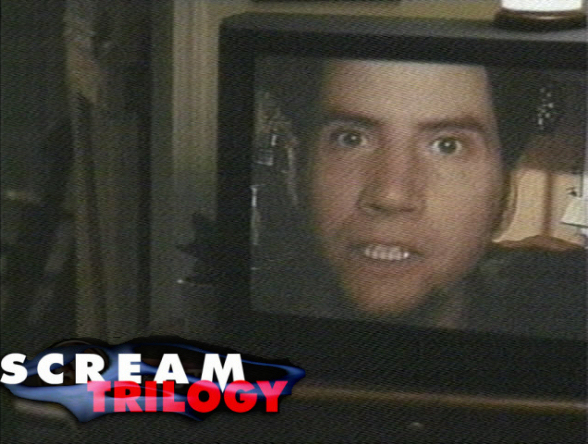 And here's the ending as written in the shooting script by Ehren Kruger:
Sidney turns slowly. Warily. Regards the open door for a long beat. And then walks away.
ON THE LIVING ROOM TV
It's Randy in the dorm room again, with a notebook on his lap:
RANDY
(o.s.)
Hey guys, so this tape is the guide to my movie collection. I know you think I'm the horror movie guy, but there's all kinds of other genres in life too, you know? So I wanted to share some more of my favorites. How about we start with a little comedy, huh? How about a little happy ending?
BACK IN THE HALLWAY
As there's LAUGHTER from the living room, we continue to hold on the door. For a long time. Waiting for something to appear. Surely, something will appear. We wait and wait.
But all that comes through is light form the setting sun.
FADE TO BLACK.
This certainly would've been a far more impactful and full-circle ending to the series than the more understated one we got, but the reason for its omission remains unknown. Perhaps the footage will be utilized in a future sequel or new Special Edition DVD.