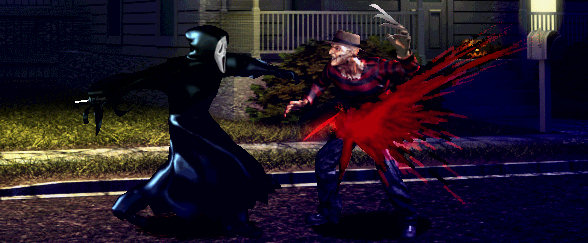 It's Scream vs. a slew of slasher and horror icons in TerrorDrome!The PC game has been kicking around for a few years now as it proceeds slowly and meticulously through creation (it is unofficial, it should be noted).
Based on the good notices it's been receiving lately, Scream-Trilogy gave it a shot. Besides a few quirks, it's a decent game. Very reminiscent of Mortal Kombat in it's use of realistic-looking CG models and massive splashings of gore. The fighters are quite specific in their recreations of movie moments within the action. Old Man Krueger can turn into the giant Freddy Snake from A Nightmare On Elm St 3: Dream Warriors.
There's a whole roster to pick from, but we chose ol' Ghosty (naturally). All we really employed were some daring dashes and slashes with the hunting knife. We were unable to pull off any special moves, save for some frantic button mashing which resulted in a funky knife-spin disco dervish which should really appear in Scream 4 as a crude commentary on Dancing With The Stars.
While we beat Herbert West of Re-Animator fame, Chucky from Child's Play used his short stature to his advantage, taking us out in the knees. But hopefully our readers out there will fare better. Give it a go.
Link: TerrorDrome