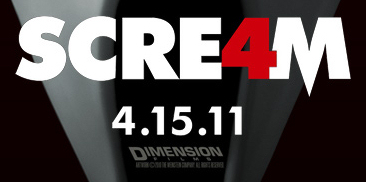 The Scream saga's usage of online promotion has come a long way since Scream 3 (2000) which threw all its strategy into a website based around the Stab alternate universe.
These days, more tools are available to pimp up Scream 4 from multiple avenues. Here's a look at where you can keep up-to-date with official sources for the film (Though, you would be forgiven for making Scream-Trilogy your main destination!).
Naturally at such an early stage, it's slim pickings as far as movie info is concerned, but there's definitely fun to be had – both the Scream 4 and Wes Craven Twitter's are giving away S4 Posters if you can answer the Scream trivia questions quickly enough. And Kevin's Twitter is a virtual goldmine as far as peeking into the writer's busy world goes.