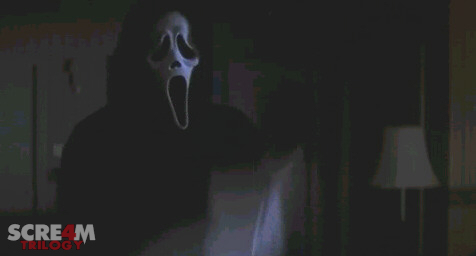 Alright, so let's get down to business: in Scream 3 it was no surprise to discover in the climax at Milton's mansion that the bloodied-sheet ghost of Maureen Prescott wasn't Sidney's mom back from the dead or a hallucination, but Ghostface himself playing mindgames. A collective "duh".
But of minor historical note, the creative team had played with the notion of setting the revelation to happen much sooner in the film – namely on the Stab 3 set when Sid first sees the bloody seeming-apparition in her mother's room. A shot was filmed of the sheet coming off in this scene instead, and this is the shot.
We'd wager it would've been a smarter move to keep it this way and quickly dismiss the notion of Sidney Going Insane since it was an underdeveloped subplot – one that frankly didn't ring true in the reality-based verse of Scream.
But now you know. And knowing is half the battle.