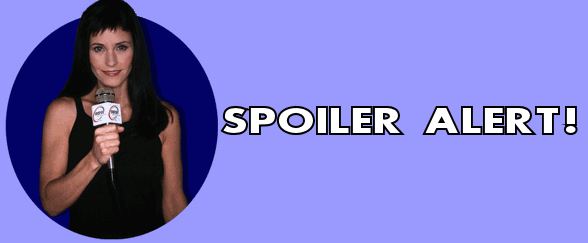 10 years later, Woodsboro is full of new characters breathing life – and possibly death – into Scream 4 along with the old guard of Sidney, Dewey and Gale. Here's who they are.
Begin Spoilers:
1.) JILL KESSLER – FEMALE (17-18; any ethnicity)
Pretty in an ingenue way. Smart, strong. A little goofy, but she makes it sexy. Full of contradictions, but instantly likeable. Not a mean bone in her body. They're not close, but Jill is Sidney's cousin.
2.) KIRBY REED – FEMALE (17-18; any ethnicity)
Cute and quirky, was a tomboy until a year ago, now she's alternative, cool and sexy. Jill's best friend. She's a pop culture and horror aficionado.
3.) OLIVIA MORRIS – FEMALE (17-18; any ethnicity)
Sexy and hot. A fun girl who knows how to be bitchy without being a bitch. She finds a way to make every situation about her, but somehow does it in a charming way. Part of the Jill, Kirby, Charlie, Trevor friend group.
4.) TREVOR SHELDON – MALE (17-18; any ethnicity)
Handsome high school jock, but quiet and intense, as though a secret hangs over his head.
5.) CHARLIE WALKER – MALE (17-18; any ethnicity)
Messy cute. Friends with Jill, Trevor, Kirby, and Olivia. A little cocky, he likens himself to 'Randy' from Scream 1 without the nerd part. No such luck, he's definitely a nerd. May or may not have a crush on Jill. He'd never admit it if he does.
6.) DEPUTY JUDY HICKS – FEMALE (30s; any ethnicity)
A police officer, decidedly sexy but a bit off, she knew Sidney from high school. Didn't make a big enough impression for Sidney to remember her. Likes her boss, Dewey, perhaps a little too much. NAME CAMEOS PREFERRED.
7.) DETECTIVE HOSS – MALE (30s-40s; any ethnicity)
New school cop. College graduate raised on the CSI TV series. NAME CAMEOS PREFERRED.
8.) DETECTIVE PERKINS – MALE (30s-40s; any ethnicity)
Old school cop. Cocky, bigoted, and snarky. NAME CAMEOS PREFERRED.
9.) PATTY – FEMALE (17-18; any ethnicity)
A bouncy teenage girl with a fountainhead of pop culture that is impressive. Like all teenagers who live in Woodsboro, she is obsessed with the Woodsboro murders and with the STAB films.
10.) MARNIE – FEMALE (17-18; any ethnicity)
Friend of Patty's. Funny and mischievous; loves practical jokes. Sometimes pushes too far. Bored with Woodsboro's obsessions with murders that happened when she and her friends were toddlers.
11.) BETTE – FEMALE (20s; any ethnicity)
Sidney's personal assistant. Type A who gets the job done. Secretly yearns for Sidney's fame and fortune.
12.) REBECCA – FEMALE (17-18; any ethnicity)
Cute, vain, over-achieving student at Woodsboro High School. Editor in Chief of the high school newspaper. She's a future Gale Weathers.
End Spoilers
Now for some background on these breakdowns. When casting began one month ago, several agencies posted them on their public websites to attract actors for auditions. This was not major news, as the horror scene was instead pre-occupied with existence of audition "sides" (basically script excerpt pages) which were available if you knew where to look. What we won't be doing is posting them or linking them, so don't even ask, brother.
Circa 1997 when pages from Scream 2 leaked, it set off a butterfly effect of frantic rewriting that ultimately gave us a Killer Mickey instead of a Killer Derek. Whether or not the changes were for the better is irrelevant. It was simply irresponsible for the culprits to release them. The unforseen result proves that once you unleash the genie no matter your intentions, you forfeit all control of the consequences. Fandom gained a permanent smudge on its record in the eyes of the creative team, that year. Does history repeat itself? The best way to break the cycle is to act responsibly and exercise caution.
So if script pages are the line Scream-Trilogy won't cross, these casting breakdowns are as far as we will go. With cast members either to be announced shortly – or naturally discovered during the course of filming next month – these fun items only serve to give a little context, as well as names to place the pretty new faces. They only offer the most teasing, superficial of details. But we've used a spoiler alert anyway to give you a choice.