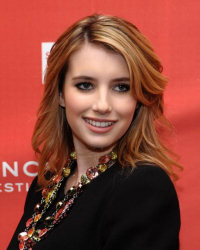 When we stopped getting Scream 4's Emma Roberts' adorable little tweets we selfishly assumed she exercised her privacy options to escape the prying eyes of newshounds. Turns out she deleted her account altogether after being targeted by the Internet Mafia.
We've come across some err, passionate  fans in our time (cough-InternetMovieDatabase) but we're innocent, innocent we tells ya – crazed Twilight fans were to blame for Roberts departure from social media.
And not even for replacing Ashley Greene, but still in a Six Degrees kinda thing, it was Roberts' comments on The Tonight Show (the moment before the discussion turned to Scream 4) that became the target of unfair scorn and so much digital bile.
Emma Roberts, actress from "Valentine's Day" and "Hotel For Dogs" and niece of actress Julia Roberts, learned last week it's better to keep your opinions about "Twilight" and the Team Edward-Team Jacob rift to yourself.

While appearing on "The Tonight Show With Jay Leno" alongside "Twilight" star Robert Pattinson, Roberts admitted to preferring the character of Jacob Black to Edward Cullen, which Pattinson took with a smile and charm.

Edward fans on Twitter, however, were not so consoling, bombarding Roberts' Twitter account with so many angry and vulgar messages the actress chose to shut down her page rather than wade through the hatred.

Some "Twilight" fans even expressed embarrassment on Twitter over the behavior of their peers.

"Emma Roberts deleted her twitter?" One fan wrote. "I can safely say i'm very embarrassed to even be part of Twilight at this point."

Emma Roberts will be seen next year in the in-production "Scream 4," and, presumably, Tumblr.com.
Source: NY Daily News via MLive