Coming Christmas this year from Fun World (Ghost Face owner, licensor, and manufacturer) – brand spanking new Ghostface action figures and bobbleheads! And next year, Deluxe Movie Edition masks.That comes straight from Fun World's Director of Licensing R.J. Torbert. We don't know much about the man but imagine him as horror's own Willy Wonka. Why? Because when he's not doling out the latest fun tidbits on his interactions with Team Scream, he's giving away Ghostface masks from the same batch his company created for Scream 4.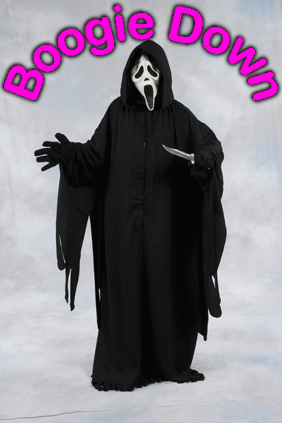 You heard us right. He has given several of the new screen masks away to fans just to be an all-round nice guy. You have to remember, we are nowhere near the promotional push for Scream 4 yet, so giveaways like these and the posters Wes Craven gave out are entirely at their selfless discretion.
We are kicking ourselves – most severely – for missing out on that epic grab for the brass ring of Scream merchandise, but we're pleased to hear another chance may pop up in future. So keep an eye on Torbert's Twitter – or better, both eyes.
Lastly, the news of movie edition masks hitting retail next year thrills us collectors, but we hope that on the horizon Fun World will produce a screen-perfect Ghostface Movie Costume. Yes, the existing robes available since 1996 are serviceable if you want to go dance a jig at the Halloween Dance, but there is a big gulf between those and what was created for the Scream films. Heavy fabric with a subtle sparkle and an all-encompassing hood, to name some points. Scream as a horror franchise lacks the type of high-end product available to fans of other genre entities, so those with a disposable income hope to see this remedied.