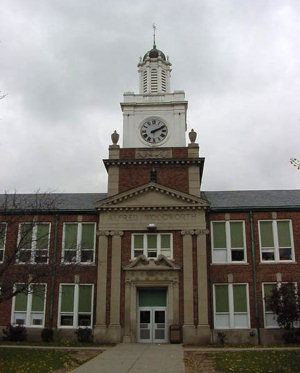 The amusingly-named Woodworth High in Dearborn, MI has been chosen by Team Scream to be the new Woodsboro High. It was chosen for its similarity to the original movie's high school, in actuality not a school at all, but Sonoma Community Center, CA.
Work will be done on the school's frontend to further the illusion, but the only major difference is currently Woodworth's clock tower – which would work if utilized, because it's logical that an addition had been made during all those years, and considering all those upper-middle-class parents that lost their teenagers to a savage and brutal massacre might have wanted to pour some grief-funds into some sort of memorial gesture. But that is pure speculation on our part, dear readers.
You've heard of spoilers – but have you heard of foilers? Intentionally misleading info on the usage of this school – that it's merely for filming a flashback scene – was concocted to minimize its role and divert possible lookiloos. But it's bogus. Woodsboro High is the primary setting of the new teen characters and the action takes place present-day.
Comparison Shot between Woodsboro High 1996 and 2010: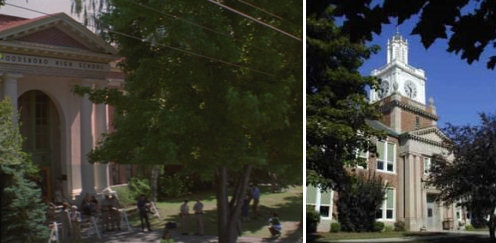 Source: Dearborn Blog via MLive