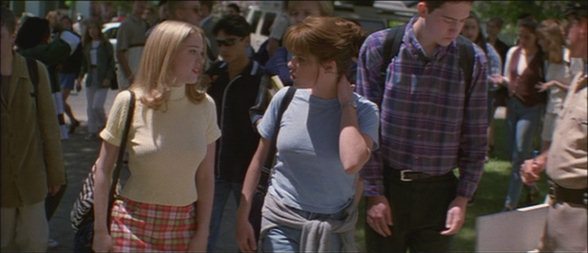 Today a call has gone out for Scream 4 extras. Now hold on a moment – this isn't some cattle call for every Joe from every corner of the country to swarm the production offices and embarrass themselves American Idol style. This is not a contest, this is a professional casting call. So listen up: you will need to navigate several requirements designed to A) weed out the flakes and B) give production the people they want.
#1. Detroit and Ann Arbor metro locals only.
#2. Register as an MI extra ($15 cost w/credit card), upload headshot.
#3. Once registered, you will be in the talent pool they will be choosing from.
#4. Be aware none of the above guarantees you an extras role in Scream 4.

Please understand we are passing this info onto you because we'd like local fans to get a chance to be a part of the movie, albeit a very, very small part. So if you want to be among the next, say, Woodsboro High students (just like the guy above next to Sidney, who isn't awkward at all!) and are able to follow the procedure, all we have to say is… good luck!