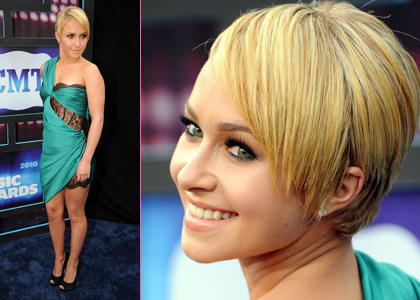 In the calm before the storm, here are some news slices filtering in to us: First off there has been a lot of confusion around start dates, but numerous sources say Scream 4 begins shooting in 2 weeks.
Look at Hayden Panettiere showing off her hairstyle at the 2010 CMT Music Awards a few nights ago. The short look goes well with her character Kirby, a geeky former tomboy that got hot. Also, Emma Roberts died her hair brunette this week – likely in preparation for playing Sidney's cousin Jill. Slasher heroine's gotta be brunette, those are the rules.
Some of the male characters had not yet been cast as of the start of the week, notably Trevor who is the crucial role as young male lead.
Following up our Michigan Extras post, this week several websites tried to bypass the registration stickler by posting the casting agency's mailing address for headshots & resumes. We didn't do this for a reason – that is not the correct process and is a dead end. Our info was right.