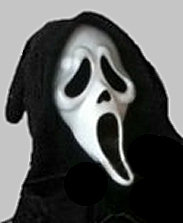 The Ghostface mask from the Nancy O'Dell Scream 4 photo has been confirmed as the real deal. Here we have cleaned the mask up to give the best possible look until more images become available. Although it's new, no major alterations have been made. In other words, it's the classic mask back in action.
So where does this leave the fabled second mask? It's the worst kept secret in Screamdom – and why not? The concept of a different mask is just too fun not to toss out into the public. First Kevin Williamson hinted there would be more than one, then Wes Craven Himself (capital H intentional) threw the fans a heck of a bone when he snapped his cute lil' cat lounging among Scarecrow Ghostface and Zombie Ghostface (upcoming masks from Fun World – owner, licensor, and manufacturer of Ghost Face) which we thoroughly investigated for you. So never let it be said Team Scream are so into the security thing they don't know how to party.
So the classic mask is 100% confirmed, but where does this leave other masks? We still don't know which existing or unseen new masks will be used. But here are some past tweets from Fun World's R.J. Torbert:
I expect there to be 2 diff masks, however I will say this, things changing very often – difficult to say without giving it away.
Sent out additional GHOSTFACE to the SET today, a very interesting opening scene.
Lets just say, the town of Woodsboro, has an obsession. There is your hint.
Speculation: ,you're going to see the secret second mask as part of the opening scene – either as a prank, or a twist. But the original mask will dominate the bulk of the film.