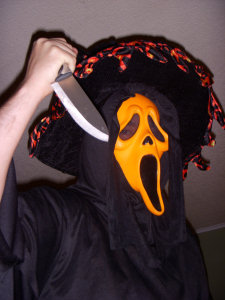 Hartford Books Examiner columnist John Valeri recently launched Scream Franchise Examiner – an insider look at the news, rumors, and bloody truth surrounding Scream 4.
What reeled us in was that it focuses on providing commentary along with the news bites, a methodology we share here at Scream-Trilogy.
Recent articles include a complete rundown of the various Scream-related books out there (we have to agree with Valeri – the UK unofficial companion is a lightweight effort but commendable for collecting material in one place) and a meaty analysis of the Scream 4 cast/character roster.
Link: Scream Franchise Examiner