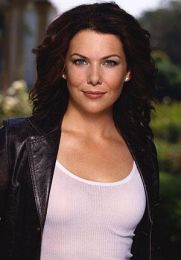 The 24 hour turnaround on that rumor was fabulous. Lauren Graham herself confirmed on The Tonight Show with Jay Leno the Scream 4 casting win. And that she's playing Jill's mother.
Besides that, Graham also makes a pretty good case for why she's likely the killer. Though it would be such a shame to have her pretty face all muffled up behind a Ghostface mask for half the movie. Hey, those things are sweaty! Wait. Lauren Graham. Sweaty. We take back everything we said.
The video is cued up and ready to go, you know what to do.