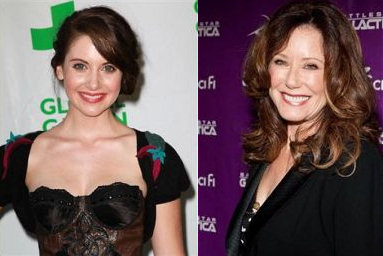 Some (thankfully) official news today helps finalize the cast list for Scream 4. Hopefully it will soon end all the on-and-off casting controversy that the media has been playing up.
"Battlestar Galactica" president Mary McDonnell and "Community" star Alison Brie are the latest actresses to join the cast of Wes Craven's "Scream 4," Dimension Films has confirmed to TheWrap.

Dimension also confirmed that Adam Brody, Marley Shelton and Erik Knudsen were recently added to the ensemble.

Additionally, Lauren Graham's publicist confirmed reports that she has dropped out of the movie due to a scheduling conflict, which likely refers to Graham's NBC series "Parenthood."

Brie will play Rebecca, franchise heroine Sidney Prescott's ambitious personal assistant who secretly envies her boss' reluctant fame and fortune.

Brie has a recurring role on AMC's "Mad Men" and will soon be seen in the indie movies "Rapsberry Magic" and "Montana Amazon."

McDonnell will next be seen playing Kevin Spacey's wife in the Wall Street thriller "Margin Call."

Brie and McDonnell are both represented by Innovative Artists, while UTA represents Brody and Shelton and Gersh represents Knudsen.

Production on "Scream 4″ is currently under way in Michigan. The film is set to carve up the box office on April 15, 2011.
If we were betting, we'd say that McDonnell is Graham's replacement. Albeit an older one. She would certainly bring in a motherly instinct. Or Woodsboro High's headmaster, perhaps? Speculation is fun, but you never truly know with Scream until opening night.
Source: The Wrap