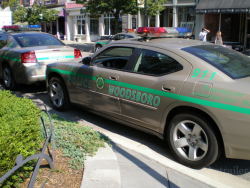 Yeah. We'll bet Wes Craven's Scream 4 will have a lot of on-screen police officers bite the dust.
The renowned horror film director/producer avoided a scheduled appearance Monday in 15th District Court in Ann Arbor by paying the $130 fine on-line for turning without using a signal.

Instead of potentially challenging the officer's decision to issue the ticket without a warning, district court records show Craven, 70, admitted responsibility for the infraction and paid the fine last week.

He was stopped while driving a Toyota with a Michigan license plate by a University of Michigan Department of Public Safety officer on July 10 near Central Campus at about 8 p.m., records show. Department Spokeswoman Diane Brown said the Central Campus area is known for heavy pedestrian traffic at all times of day, and that officers take such violations and others that pose potential danger to the public seriously due to the high risk of injury.

Craven wrongly credited Ann Arbor Police for the stop and sarcastically thanked the officers on his Twitter.com account a few days after the incident. The Los Angeles resident has not posted any other comments regarding the incident or taking care of the ticket since.
Source: Ann Arbor Journal