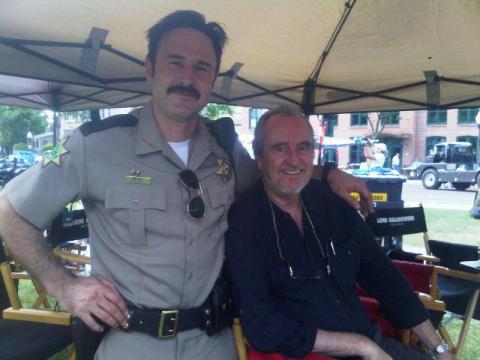 Pictured: Wes Craven and David Arquette during filming today, as posted by Arquette. Now, ponder the Scream-worthy irony of Craven making a movie that in part focuses on positive law enforcement roles like Sheriff Dewey Riley, juxtaposed with the famed director receiving a traffic ticket by one of Michigan's real cops.
Twitter uses are already aware of this going down due to Craven himself tweeting the news, but we thought it worth sharing with our audience at large, with additional info available – it's going to court. We're unsure if a court attendance is standard finalization in the state when fines are issued. Regardless, it makes one wonder why the need to follow through with the fining when the point has already been made.
Famed horror movie director Wes Craven is part of a growing film industry spurring economic activity in Washtenaw County and across southeast Michigan.

And now it appears the "Scream 4″ director will be leaving a little extra money of his own behind in traffic court.

Craven, 70, was pulled over by officers with the University of Michigan Department of Public Safety July 10 after he failed to use a signal while turning onto a street near Central Campus, records show. He has a scheduled hearing in 15th District Court in downtown Ann Arbor July 26.

Court records show he handed officers a valid California driver's license after he was stopped in a 2010 Toyota with a Michigan license plate at about 8 p.m. He faces a $130 fine.

According to his Twitter.com/wescraven account, the famed director/producer thought he was stopped by Ann Arbor police and made it known he felt a warning was more appropriate.

"Got a ticket. Didn't signal before turning. Just a warning would've been nice," he posted shortly 1:30 a.m. July 14. "First moving violation in years. Thank you Ann Arbor police."

Craven also posted two other tweets involving police since he began filming in Michigan, including one about a crew member stopped by police for taking pictures near the set and a trespassing paparazzi photographer.

Officials with the U of M police declined comment on the ticket issued to Craven.

When reached for comment, Ann Arbor Mayor John Hieftje, a proponent of local Hollywood filming, said he doesn't interfere in police matters and that it's within the officer's discretion to issue a ticket.
Source: Ann Arbor Journal