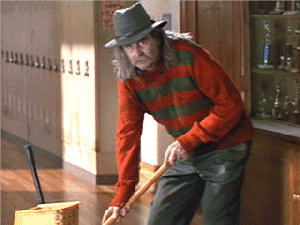 Wes Craven took time out from Scream 4 to give horror movie fans a chance to influence the film in a small but oh-so-cool way. Any Scream fan worth their salt (table, not Debbie) knows that the director has performed a cameo in each entry. And the forth chapter shall be no different.
As Craven tweeted "My crew was wondering what my cameo should be in #SCREAM4. Suggestions? No janitor, doctor or tourist."
Within a few seconds and for the next few hours, Craven's followers chimed in en masse. We kept a close watch on the live feed to tabulate the results. Barring completely unreasonable suggestions, repeating entries ranged from fun sounding – if the scenes actually exist for them to be possible (coroner, bartender, video store clerk) to having the occupational vagueness to be real contenders (teacher, news reporter, paramedic, gardener, customer).
Our personal suggestion was cop. Each following sequel has given Craven's cameo characters a higher level of status. Starting out as Woodsboro High's shifty janitor, then a distinguished doctor at Windsor Hospital, and finally a mellow tourist enjoying time on a studio backlot. So what could top them all but stay in context of where the film is set? As we've seen, Woodsboro is well-numbered with lawmen this time round. So in our minds, Craven in uniform and sunglasses would fit right into the pack.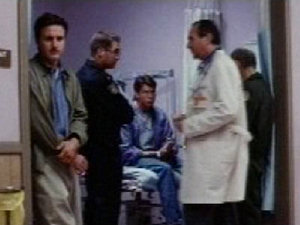 We've got to hand it to the recurring entry of bum for best mental image. It's one way Scream 4 could bring back another original face. Just imagine, after the shame of being in the vicinity and completely oblivious to Principle Himbry's savage murder, Fred is fired and ends up as the lone homeless man of Woodsboro. Because, you know, a town like that wouldn't have bums.
Craven later dropped back in with "Great suggestions. I guess you'll just have to wait and see…". With hundreds of ideas to pool from, perhaps his mind is made up by now. So now tell us, what would you like his cameo to be?