Here's a troubling development. We're as shocked as many fans are: Kevin Williamson is is no longer working on Scream 4. In his absence, Ehren Kruger has been brought in.
How did this all happen? First came Zap2It's article:
All is not well in Woodsboro. As we previously reported, significant script changes have created some tension on the set of "Scream 4."

Lauren Graham's role was so reduced that she dropped out of the project, and now it appears that Hayden Panetierre's part has changed as well… and who's at fault may surprise you.

Zap2it has learned that the slasher flick's script is now in the hands of Ehren Kruger, not the creator of the franchise, Kevin Williamson.

In fact, word is that Williamson's involvement with the project has come to an end entirely — meaning "Scream 5″ is a no-go at this time.

Kruger's writing resume includes "Transformers: Revenge of the Fallen" and "The Ring," and more significantly, "Scream 3." While the first two "Scream" movies, penned by Williamson, were adored by fans and critics alike, "Scream 3″ was… well, not.

Hayden Panettiere's role, which one source says "used to be really sharp" has now been "dumbed down significantly." The actress is "beyond frustrated with the changes." Another source says that Lake Bell, who had to drop out of "Scream 4″ due to scheduling changes, "dodged a bullet."

To make up for the actors that have dropped out of the production, Alison Brie, Marley Shelton, Erik Knudson, and Adam Brody have all signed on recently.

What gives, Wes Craven? You're supposed to butcher Ghostface's victims… not the script.
Then came Shock Till You Drop with an update, as close to an official spin as possible:
Update 9:13am Pacific: Okay, here's what a source close to the production called to tell me this morning. Yes, Ehren Kruger has been brought in to do a bit of polishing. But no, Williamson isn't "out" by any means. As you know, he's also working hard on the second season of Vampire Diaries for the CW. While he's away fulfilling his commitments on that show, the production called upon Kruger to assist on the script. Some chatter about Lauren Graham's departure has made it sound like she wasn't thrilled with the sequel, however, it was another case of production scheduling and she's off to work on Parenthood.
But that did not seem to change the bottom line that Ehren has once again replaced Williamson. The original article seemed to lay blame at Wes Craven, so he corrected Zap2It via Twitter: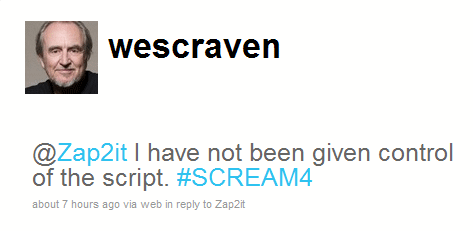 Thus confirming the script issues. The original article doesn't make it clear, but the timeline math would mean that they have been shooting from day one from an Ehren Kruger script. This is a lot to process so stay tuned as we see what else we can dig up.