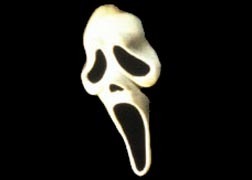 R.J. Torbert from Fun World is back with another cryptic tweet that reveals nothing and something at the same time. He has "received direct communication from Wes Craven today—things are going great on set and he's very pleased, more "fun" in store".
Torbert also issued a challenge to Scream-Trilogy to decrypt his message. We'd have to say, based on recent shooting for the Stab-A-Thon and the fun had shooting it (refer to the Bloody Casey photo), that they're going to film additional footage of costumed partygoers getting down. We could be way off.
Speaking of Fun World, stay tuned to Scream Franchise Examiner for your chance to win a Ghost Face mask signed by Craven!