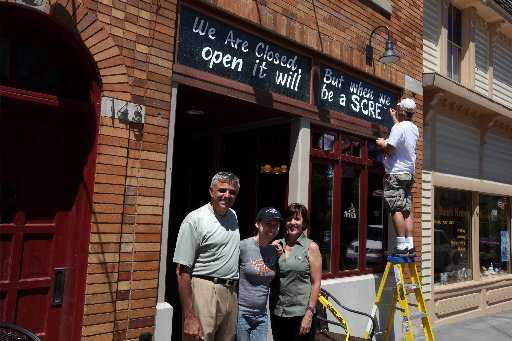 A Michigan bookstore is the latest location to bring Scream 4 to life. It has recently been set up for filming, here are the details on that from Detroit Free Press.
'Scream 4′ gives owners of new Northville bookshop a huge thrill
By Tom Walsh

Dan and Kathy Comaianna had not even opened the doors of their quirky new shop, the Next Chapter Bookstore & Bistro in downtown Northville, when a couple of location scouts for film director Wes Craven stopped by in late April.

Craven needed a bookstore to shoot a scene for "Scream 4," the latest in his series of popular horror films starring Courteney Cox, Neve Campbell and other big names.

The location scouts loved the shop. They loved the name. Craven did, too, when he flew in to check it out a day or two later. A deal was quickly struck.

This week, the Next Chapter becomes a film set, with Craven, Cox, Campbell and others scheduled to shoot there Tuesday and Wednesday.

And this is just the latest twist in the Comaiannas' topsy-turvy tale of birthing a small family business.

Right out of the movies
Dan Comaianni always wanted to open an espresso bar, but never did he imagine that this "Next Chapter" of his life would bring a storm, a flood and "Scream 4″ to his quaint little shop.

And that's all before Comaianni and his family have even had a chance to hold a grand opening for the Next Chapter Bookstore & Bistro at 141 E. Main.

"It's wonderful," Comaianni said Friday amid a frenzy of electricians, carpenters and set decorators scurrying around the store, preparing it for a movie scene to be shot there this week. "They say they want to help us out, spend their money here. They even want us, my chef, to make the props, like cakes and pastries, used in a scene."

As we sat in the shop, temporarily closed to the public and surrounded by yellow-and-black crime scene tape warning "Police Line Do Not Cross," Dan and his wife, Kathy, and daughter Lindsay Comaianni shared the improbable story of the Next Chapter's journey from fuzzy idea to weather disaster to movie star.

Be sure to read the whole article, which goes on to detail some of the changes production have made to the store.
Here is a photo from their Facebook page to give you an idea of what the interior of the store looks like. Could Sidney Prescott be doing a book signing here?