Since Scream 4 began shooting less than a week ago, fans in Michigan have been captivated by the chance to capture cast members with their cameras and phones. But there is no higher bounty than that of the original cast members.
David Arquette has been spotted a few times, and onlookers attempts to capture the moment have failed: here's a blurry we picked up on Flickr – leap of faith – that looks like Sheriff Dewey on the right. It sure isn't Deputy Judy Hicks, that we can safely say!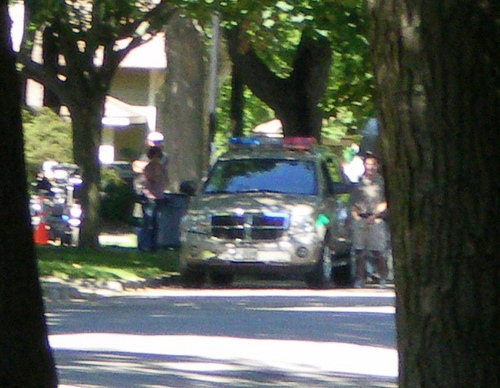 So maybe capturing Arquette on video would fare easier. Let's move in for a closer look.
Or not. Has a celebrity finally gained supernatural powers to obscure the vision of all papparazzi – professional and amateur? Or is it only a matter of time before someone in the right place at the right time gets a clear pic of one of the original beloved trio?