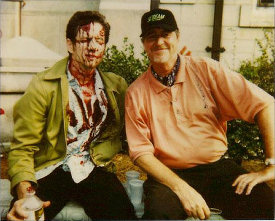 As if we needed to tell you that. But it's a little less ridiculous than the void-generated Cotton Rumors to think that Randy Meeks could return in Scream 4. This is the non-truth that fans wish were true – heck, including us.
Randy was such a beloved character that bit the dust halfway through the trilogy. So we could kinda sorta maybe suspend disbelief to accept him back in the form of another message from the grave, as in Scream 3.
Let's talk in a fictional context for a moment: We never saw the whole videotape. Randy veered off into trilogy rules in that event that exposition was hitting the heroes. So surely he would have also included rules for "just another sequel" to account for that possibility.
Okay, we admit it. It's a stretch. But remember, The Meekster did also record his Rules For Other Genres – a point not currently canon, as it hit the cutting room floor. It could still come back into play if utilized correctly. It's just too good material to bury in a deleted scenes supplement, which is why it didn't turn up in the previous special editions.
But as for new scenes? No, sir. Randy isn't coming back in flesh nor analogue. Jamie Kennedy has reaffirmed this to the Miami Herald, which offered up the quote today:
"I was talking to [screenwriter] Kevin Williamson the other day, and he told me, `You're still dead.' So as much as people say I'm coming back, I think I'm dead."
Source: Miami Herald