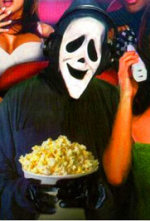 The latest on The Weinstein Co's money-juggling yields a surprise nugget about Scream 4 as well as a look at their production strategy which involves a slate of Scream-relevant movies like Scary Movie 5, which we've heard will be a reboot.
The goal for TWC is to have four to six wide releases a year and at least a half-dozen other limited releases, both in-house productions and acquisitions.

The company's next wide release will be "Piranha 3-D," opening Aug. 20 in more than 2,000 domestic theaters with a marketing campaign of about $30 million. Apparently, TWC has been able to book the number of 3D screens it needs.

That will mark the first movie in a renewal of the Dimension division run by Bob Weinstein. Other sequel titles being developed include "Hellraiser" and "Children of the Corn."

Wide releases are planned for "Scream 4″ in April and then "Spy Kids 4″ in August 2011, both now in production with budgets of about $40 million each. In active development for wide release are sequels to "Scary Movie" and "Halloween," among others.
Source: The Hollywood Reporter