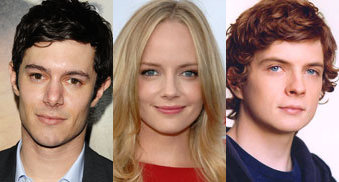 After Lauren Graham's departure almost kneecapped Team Scream in the publicity stakes, they needed a win. And they got one – today sees a trio of names "unofficially officially" confirmed in a well-timed move.
Adam Brody, Marley Shelton and Erik Knudsen have joined the cast of "Scream 4," which reunites Wes Craven with Kevin Williamson, who kicked off a horror movie revival with his "Scream" script in 1996.

The film will bring back original cast members Neve Campbell, David Arquette and Courteney Cox, though the plan is to pass the baton to a new generation of slasher victims, namely Emma Roberts, Hayden Panettiere, Rory Culkin and Nico Tortorella.

Brody will play a cop recently graduated from college who was raised on the "CSI" TV series.

Shelton will play a deputy who knew Campbell's character in high school. Lake Bell had been in negotiations for the role.

Knudsen will have a role similar to the one  played by Jamie Kennedy in the first two installments, a character who is familiar with horror movie conventions and a provider of comic relief.

To preserve the identity of the killer, Craven and Williamson are operating under several layers of secrecy, including not sending the script to agencies. At a table read last week, the actors were told to stop reading at page 75 to prevent even those already cast in the film from knowing the climax.

Shooting began this week in Michigan.

The UTA-repped Brody recently wrapped ensemble indie drama "The Oranges," which also stars Hugh Laurie and Leighton Meester. He stars in "The Romantics," an ensemble romantic comedy that also stars Katie Holmes, Anna Paquin and Elijah Wood which is slated to open this fall.

Shelton, repped by UTA and Untitled, starred in the Jerry Bruckheimer-produced CBS series "Eleventh Hour" and was most recently seen in director Sebastian Gutierrez's ensemble comedy "Women in Trouble," which premiered at the 2009 South by Southwest Film Festival. Other credits include "Planet Terror" and "Sin City."

Toronto-born Knudsen appears in August release "Scott Pilgrim vs. the World," Edgar Wright's adaptation of the Bryan Lee O'Malley graphic novel series, as well as "Beastly," a CBS Films fantasy romance. The actor, repped by Gersh, Joannie Burstein and Fountain Head Talent, was seen in "Youth in Revolt" and was a regular on CBS' "Jericho."
Brody is a surprise playing the hip detective because we assumed Anthony Anderson would be playing that one. The results between the two should make an interesting dynamic. As far as Knudsen goes, he would likely be bringing Robbie to life.
Source: Heat Vision's Borys Kit