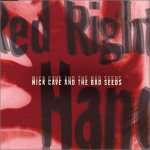 One constant throughout the Scream series is Nick Cave's eerie track Red Right Hand. We were introduced to it in Scream, Scream 2 got a remix version by DJ Spooky, before Cave provided an original rendition for Scream 3. Will the song be back for Scream 4? If so, here's a probable contender.
Artic Monkeys performed a take on Red Right Hand last year which says goodbye to Cave's brand of melancholy, bringing instead a modern rock rendition to the classic, seeming a natural fit with the generational approach to the new sequel.
Turn your speakers up. Loud. Then sound off below – should v.4 be part of the soundtrack, or should Red Right Hand be left exclusive to the original trilogy (and Cave's own vocals)?