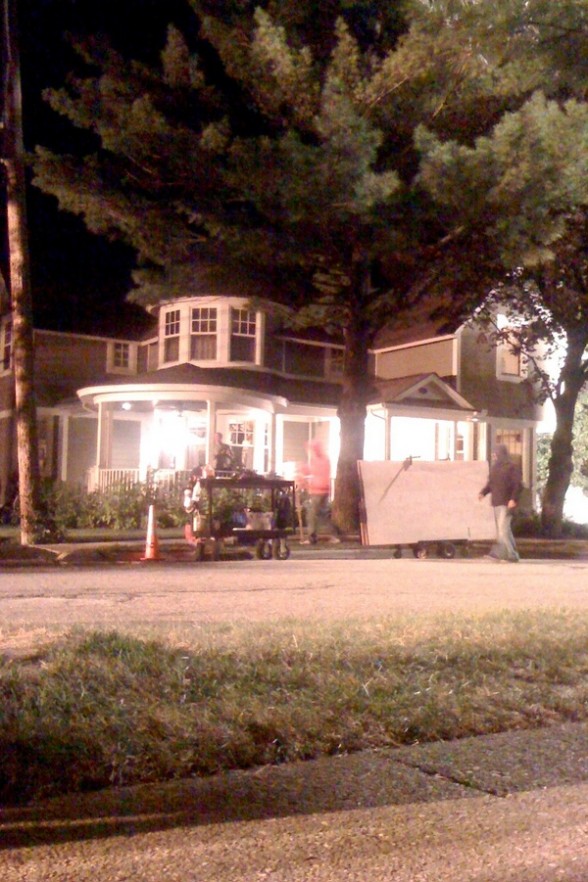 September is about to begin and Scream 4 will shoot for its third and final month. Eyewitness photos have been thin this week, as Bananadoc is on vacation (a rumor persists that it's a front – he really slipped on a banana peel while photographing a major death scene and is now recuperating in hospital).
A firm outline of the remainder of filming, this public notice posted in Michigan was shared today by Before The Trailer:
Scream 4 will start filming on Tuesday Aug.31st and shoot through Friday Sept.24th (small chance we will end earlier).   We will film mostly at 19223 Clement Rd. and will film about 3 days at 19260 Clement Rd.  We will only film Monday through Friday – 14 hours each day (estimated 4pm to 6am)  We will not film on the Weekends.




ROAD CLOSURES:

The township will be dropping off barricades on Clement Rd. at 7 Mile and at Frederick St.  These will be Hard Closures and we will only allow film crew and the residents whose house is within the closure to enter.  We will park the trucks along the side of Clement and use the road between the closure to push carts of gear and move our 80 ft. lifts with lights.  We will ALWAYS have a Fire Lane available in the event of an emergency.  We will also put a Local Access Only Barricade on Clement at Main St.
A few words on Shenae Grimes and Lucy Hale. Almost as quickly as both were confirmed to be in
Scream 4
via their own Twitter accounts, both were back in LA. Comments from Grimes on the
day of the girls shoot
such as "banging out" her cameo indicate, in retrospect, that the single night's shoot was all that Grimes and Hale were needed for. If so, that would lend further credence to the two being part of a briefly shown
Stab
scene a la Luke Wilson and Tori Spelling in
Scream 2
.
Updated – Lucy Hale confirmed her stint was a short one by tweeting to Wes Craven "I had THE best time working with you! have a great rest of your shoot"