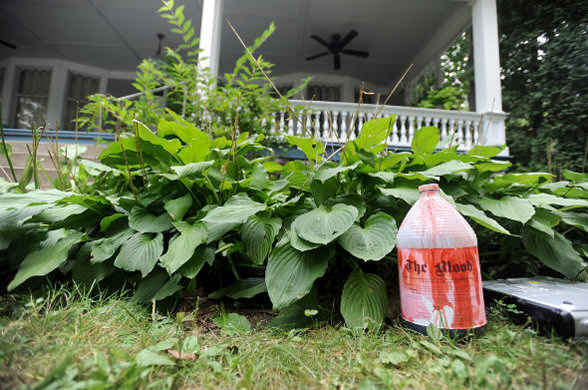 The perfect closure for recent weeks of filming at a certain carnage-endured house in Scream 4 is this article from AnnArbor.com about the owners; how their house came to be chosen, and some of the changes production made to the homestead. A few nice photos and quotes, too.
Although some scenes have been filmed in Northville, Dearborn and elsewhere, Ann Arbor most closely resembled the fictional Woodsboro, where the "Scream" movies take place. It had that small-town, vibrant, friendly community vibe, said Logan Cooper, "Scream 4″'s location manager. He said the goal is to portray a town that's sweet and inviting, to show "how bad things happen in safe places."

The big challenge was to find two houses side-by-side where you could see out of one window into another. Cooper said that element is central to the plot, which he wouldn't divulge. He says there were "definitely moments of despair" as he drove around Ann Arbor and the Detroit suburbs for six weeks, looking at 40 pairs of houses, before he found the Tesars', which is directly adjacent to the house next door. Both houses have been used to film the movie.
Warning, there is a vague death spoiler contained. Click here to read the article.