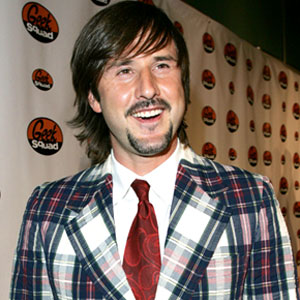 New interview with DA. Here is the Scream 4-relevant info:
"He's an easy character for me to play for some reason," he says with a laugh. "I think we might share a lot of the same qualities, good or bad."

Arquette and his wife Courteney Cox along with Neve Campbell and director Wes Craven have all returned to resurrect the horror series…

"It's really been kind of a trip for me to say the least," Arquette says. "I met my wife on the first one 14 years ago or something and now we have a child."

Will daughter Coco be popping up in the new movie? Maybe. Sorta.

"She may be in a picture somewhere," Arquette teases.

Joining the original cast are Emma Roberts and Hayden Panettiere, among others. "It's weird. All these kids are turning 21 on the set—or not even that," Arquette says. "I've gone out a few times with them, and Courteney's like, 'David, you're not a kid anymore.' I'm like, 'I know, but I still feel like one.' "
Check out the source to find out what else he is up to!
Source: E! Online