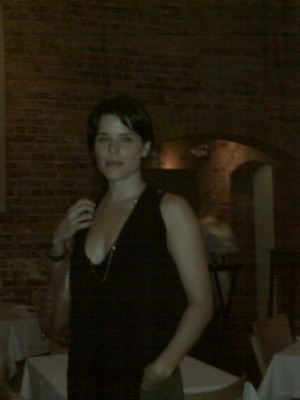 Ann Arbor.com reports Lillard is in MI to shoot Scream 4. Say, what?
Patrons of eve the restaurant on Thursday evening may have noticed a couple of famous faces in the corner of the room.

Actors Neve Campbell and Matthew Lillard, in town to film "Scream 4," shared a quiet dinner together, said Ann Arbor resident Lori Milliman, who was also there that evening.

"We tried to take pics, but she covered her face two times, and then we decided to leave her alone for the rest of the evening," Milliman wrote in an email. "As she was leaving the restaurant, my friend caught her attention and we asked if we could snap a picture. She obliged. I honestly think she was surprised we didn't jump up and get in it with her!"
Lillard has already recently said he won't be back for Scream 4, so it was most likely a case of him being in the area (happens all the time in the entertainment biz) and catching up with an old friend.
Though we wouldn't be adverse to another Scream 2 style cameo from Mr. Lillard. So long as there's no bleached-blonde hair involved, of course.