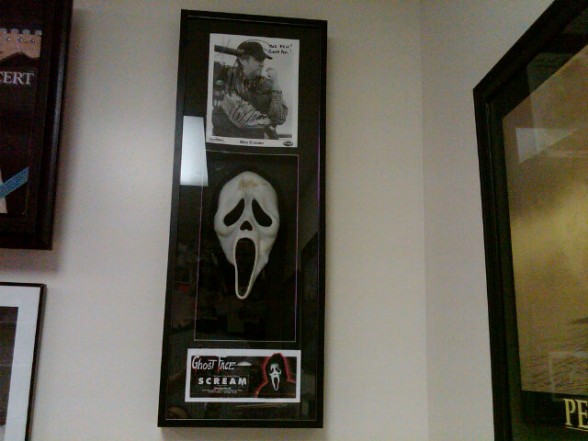 R.J. Torbert of Fun World has today posted a photo of a prized possession hanging on his office wall – a professionally framed Ghost Face mask with signed Wes Craven photo. We bet many fans would kill to own something like this! Torbert didn't have to – all he had to do was assist with the development, marketing and longevity of one of – if not the – most well-known killer visages in film history. Gee, it sounds so easy!
Updated – there are 3 signatures. A 'good pen', a 'bad pen' and on the mask.
Now for an update on my efforts to contain, preserve and display my #1 Deluxe Zombie Ghost Face mask. It's coming along well. I have the perfectly sized glass case for it – a fishtank! (Without the water of course) I've located a styrofoam head at a local art shop, but it's female and a little small. I'll see if I can make it work. I'm also chasing up a frame for the cert of authenticity. Paper sizes on my side of the globe are much narrower than the standard in USA so I'm after a very specific slightly larger frame to house the cert. Presentation is very important to such a special collectible, hence my slightly obsessive quest since receiving the mask. I will of course snap photos once completed.