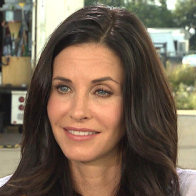 Lucky for us Entertainment Tonight have found prime use for the outtakes from their breezy but bold Scream 4 Preview Segment – they've divided and peppered them throughout video and text on their website.
In addition to the original trio of Neve, Courteney and David, Emma Roberts and Wes Craven – who gets a great final quote in – are also represented. Here's a highlight:
"We all reunite at the beginning of the movie," says Courteney, explaining that her character, Gale Weathers, has given up her job as a reporter to marry Deputy Dewey (played by David) and write books. "She's written six Stab books and she has writer's block, and she's pretty bored, pretty miserable, pretty desperate, and all of a sudden some murders start happening and her life starts to look up. She likes a good murder."
Click here for the full article.
Thanks to Ryan for the heads-up.