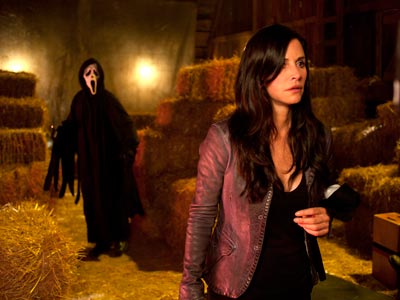 Gale Weathers in peril. Ghostface sneaking up. We smell an excellent chase scene. Not to be outdone by Entertainment Tonight, Entertainment Weekly (read by those who know their shit) debuted the first official Scream 4 movie photo.
Image appeared in both print and online, with quotage from Courteney Cox:
Courteney Cox Screams Again
When Scream 4 opens April 15, 10 years have passed. Cox's character, Gale Weathers, is now married to Dewey (Cox's real-life husband, David Arquette). "I kind of gave up my job as the entertainment journalist," says Cox. "I'm bored with my life and my marriage." Bringing a little excitement to town is Sidney Prescott (Neve Campbell). Her return leads to more Ghostface murders, which reenergize Gale. Says Cox, "Things start happening, and I couldn't be more thrilled." —Tim Stack
We also have the scan for completists. Submitted to us by jonmguerra.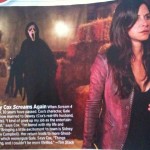 Source: Entertainment Weekly