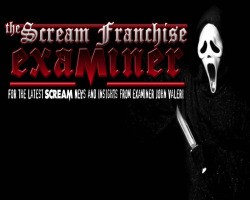 If you haven't been checking out Scream Franchise Examiner lately, you've been missing out. We frankly don't have much time to surf many fansites but always sit down with a coffee to read John Valeri's smooth and insightful articles. He has been quietly producing exclusive content for some months now – and the latest gem is an interview with a [privately confirmed] anonymous Scream 4 insider. The interview was rolled out in two parts over the past week.
3) From what you have seen, how would you say SCREAM 4 is going to compare to the original trilogy? Many sources have said that it captures the spirit of the first SCREAM more so than the sequels—do you agree?

From what I have seen there are things in this movie that definitely make reference to the others. But this film is going to put the other 2 sequels to rest.

4) The tagline for the film is "New Decade, New Rules." Can you give us a little insight as to what this might mean?

I'll be right back…….ok back. Wait I didn't die oh no! The rules as Jamie Kennedy put them are no longer in effect. Anything goes. The rules that the sequels went by ultimately made them stupid. The movie makes reference to it. When you watch it you will see.
Read the interviews in full for more, including what Neve Campbell was really like, and how the veteran and younger cast members got on.
Interview part one: Click here
Interview part two: Click here