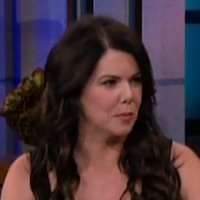 While Mary McDonnell played the role of Jill's mother Kate in Scream 4, those that have been here watching developments since day one know that wasn't always the plan.
Here's Lauren Graham's explanation of events – thanks to Scream Franchise Examiner for the concise summary.
On Monday, actress Lauren Graham (Parenthood) returned to The Tonight Show with Jay Leno. And while she was there, she clarified why she had to drop out of Scream 4: "The dates of the movie changed and they came up against the TV show." Since Graham's departure, rumors have persisted that she was unhappy with changes to her character, though this appears to be unfounded. Graham confessed to being "so excited" to do the film and still has to contend with fans inquiring about the project. Ironically, it was during a previous chat with Leno that she announced her ill-fated casting.
And here is video of Graham's recent appearance, cued up and ready to go.

Source: Scream Franchise Examiner