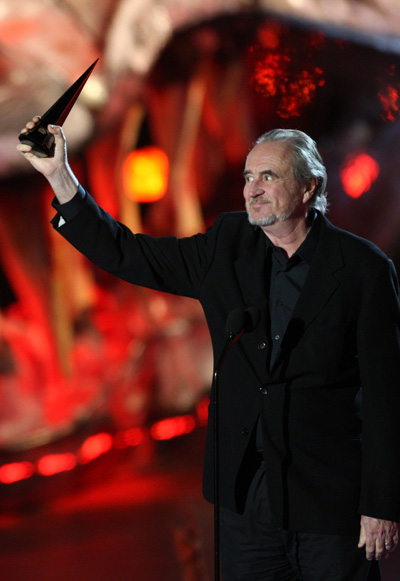 About 20 days till the first Scream 4 footage. Think you can handle that?
"SCREAM 2010″ will feature a host of world premieres, including footage from the highly-anticipated fourth installment of one of the most influential franchises of all time – none other than the original cast and creator of the movie "Scream" along with new stars from the upcoming "Scream 4." David Arquette and Neve Campbell, along with 2006 Scream Mastermind Award-recipient and creator of the "Scream" franchise Wes Craven, as well as "Scream 4″ co-stars Emma Roberts and Hayden Panettiere will present never-before-seen footage from the just-wrapped "Scream 4."
Wes Craven accepted the Visionary Award in 2008 (pictured).
The Two-Hour Event Premieres Tuesday, October 19 at 9PM, ET/PT. In the meantime go to the official website and vote for your favorite flicks and scenes from the past year.
Source: Futon Critic via Ryan