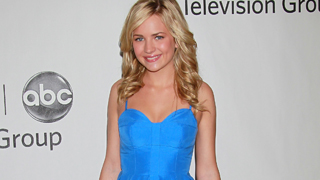 Britt Robertson of TV's Life Unexpected has joined the cast of Scream 4, report Zap2It. Yeah, we haven't heard of that show but will have to start tuning in to check out the uber-cute Robertson.
This development would seem to rat out the mystery girl front and center in Wes Craven's set photo last night!
Team Scream have done a great job taking back the reigns of secrecy lately. By adding Bell and Paquin to the cast, followed by Grimes and Hale, and now Robertson – we are all left with complete uncertainty as to which actresses comprise the opening scene. As it should be.