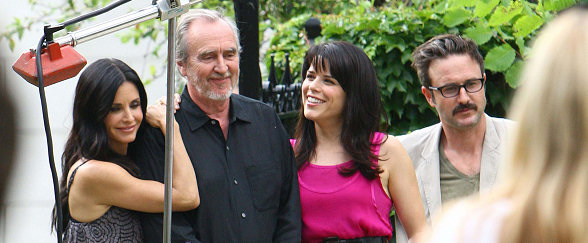 Tweeted by Wes Craven: "It's the end of the beginning, and the beginning of the end… That's a wrap on @Scream4!" What a journey it has been – Scream 4 has just completed a mammoth 3-month summer shoot.
From our outsider perspective it seemed to whiz by – due to the sheer amount of material generated by social media, something that basically did not exist back in 2000. Yet we still don't have a firm idea on what turns the tale will take – as it should remain. All those photos and bystander recollections will mean something once the film comes out and drops them into context. Historical preservation. The well-intentioned secrecy of Scream 2 and Scream 3 has doomed those productions as enigmas to this day.
As Scream 4 now shifts from production to post-production, Team Scream – Craven & Company – will be cycling back to the early days of story work as as crucial choices will be made in the editing room to find the real flow, the real moments, and the real movie.