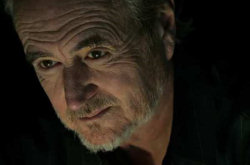 Another My Soul To Take-centric Wes Craven interview sidelined by Scream 4. Lucky for us – but if the movie makes bofo box office, you can bet Scream 4 press next year will even out with Soul-sequel talk.
Is Craven the hardest working veteran in the genre movie biz? Well, he's no slouch. He reveals he was working on Soul's 3D-conversion over weekends for the duration of Scream 4's shoot:
Unfortunately, we were already shooting "Scream 4? — talk about workloads upon workloads. We had to have sessions on weekends where everybody came up from Los Angeles. We would go through the reels for five, six, seven hours a day, which is really great after you've had an 80-hour week [laughs].
And on his motives for signing up for the 4th chapter:
It was old-home week, in a sense, to work again with Kevin and Neve [Campbell] and Courteney [Cox] and David [Arquette]. It was the thought of having a good time and making an interesting movie and continuing that kind of storyline. It's pretty unusual for there to be a series of films to have the same core actors for that many years; it's been 16 years of following the lives of these characters. Usually in genre, they knock them off, and the next sequel it's somebody new. This one has had the interesting thing of introducing new people and keeping with the old ones as well.
The full interview also offers Craven's thoughts on the Nightmare On Elm Street remake – or rather, his non-thoughts, as he did not watch the remake.
Source: LA Times