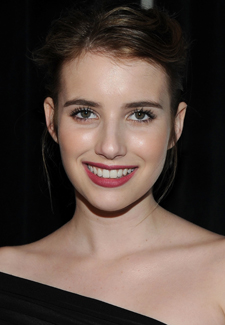 Here are some short excerpted mentions of Scream 4 from an Emma Roberts interview promoting her latest movie, It's Kind Of A Funny Story.
Buzz: Let's talk Scream 4. What can you tell us?

ER: I play Neve Campbell's cousin, and she's the girl next door very much like Sidney Prescott was in the original, and it's just a really fun character to get to play. I'm so happy to be a part of Scream, because I've always wanted to do a horror movie, especially one that I love so much. It was great! I loved working with Neve and Courteney [Cox] and David [Arquette].

Buzz: Did you go back and watch the original films to prepare?
ER: I did, but I watched half of it with my eyes closed.

Buzz: Oh, so you don't do well with scary movies! How was it starring in one?

ER: I was scared while we were shooting most of the time!

Buzz: Did you get to use your best scream?

ER: Yeah, I have a great scary-movie scream. You'll have to wait to see it though.

Buzz: Well, with Halloween around the corner, do you have a favorite scary movie other than the Scream franchise?

ER: I love The Ring. It's still traumatizing to me. The Ring is my favorite, because it's not gory; it's more psychological.
That was from BuzzSugar, we have also heard via The Star that Roberts has an almighty scream, so much so that she burst a blood vessel in her eye during shooting Scream 4!