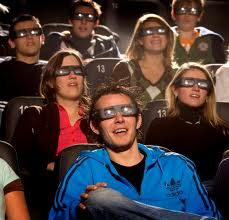 It should come as no surprise that Scream 4 isn't exempt from 3D, because every movie produced in the system these days is a contender as studios look to gain every possible edge in luring the public away from inexpensive home theaters and back into the multiplexes.
During the press junket for My Soul To Take, Arrow In The Head conducted an interview with Wes Craven encompassing that film, including its post-production 3D conversion, naturally leading to inquire about Scream 4 undergoing the same process. Craven offered this frank answer:
Well it's a totally different studio, I don't know what their plans are. Way back I had a conversation with Bob Weinstein about it and he said, "Never, we'll never do 3D!" I would bet that he's going through a similar process that I went through, where you suddenly realize that this is coming down the road big time, it's not going away, and you'd better be smart about it, at least weigh your options before you say no.
Craven was also asked where Scream 4 was at:
It's been so recent. My wife and I went up to Massachusetts for a week and I arrived here yesterday, we'll do press for a week and then, right after this film opens, we'll be starting post-production.
The full interview can be found here.
We would fathom that as Scream 4 has cache of being the first new entry in the franchise in over 10 years – not to mention the sprawling cast list – that it has all the dimensions it needs to attract the immediate attention of the public once released. Scream is, after all, not confined to the horror fan niche – it is part of pop culture.