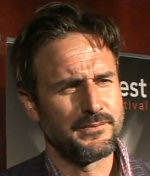 Dread Central caught up with a slightly buzzed looking David Arquette at the Screamfest LA Film Festival. As well as foisting praise that Scream 4 is the "best sequel of the bunch", Arquette mentioned that Scream 4 is called "A Return To Woodsboro".
As screamers know, in Scream 3 the characters were embroiled in the making Stab 3: Return To Woodsboro, which is where third film was originally supposed to take place.
Scream 4: Return To Woodsboro. Let it roll off the tongue (or screen) for a moment.
Instituting a subtitle would help Scream 4 minimize the stigma of sequelitis by making the film less another sequel, and more its own chapter.
Source: Dread Central (Note, they are calling it "the" return in their article, Arquette states "a" return. Who knows, final title could carry neither)