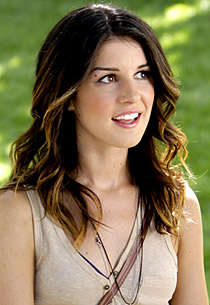 TV Guide interviewed Shenae Grimes about 90210 but dropped the requisite Scream 4 question. As expected, nothing juicy was revealed – but now that we've seen the teaser, there may be a good reason for that beyond the usual hush-hushity. Does Grimes play a "real" character or a "fictional" one in the world of Stab? As you ponder that, here are her comments to TV Guide:
TVGuide.com: Is there anything you can tell us about your role in Scream 4?

Grimes: I did film it. I can say absolutely nothing. I wish I could because it's so good. It's just a cameo I did with Lucy Hale. I grew up on the Scream films, and Neve Campbell is a fellow Canadian so I really looked up to her. It was pretty wild to have things come full circle like that.
Thanks to Scream Franchise Examiner for tipping us off to the interview. We're also including a screencap of Grimes (right) with Hale from their Scream 4 cameo.