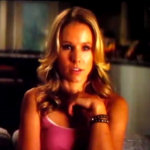 Our trailer post has passed 100 comments as fans continue to devour then dissect the blurry, but revealing teaser. We recently added a far better visual source so be sure to check that out. The ultimate HQ quality version should be due on Tuesday night, so until then here are some odds and ends to help coast you through the next two days…
Screencaps – and lots of them. Click Here to see pretty much every shot from the best of the current low-q trailer copies.
Shock Till You Drop got some quick questions in with the cast on the night – Click Here.
Entertainment Tonight have a segment on the awards up that is more focused on David Arquette's personal life, but there are short video interviews with the Scream 4 cast – Neve Campbell, Emma Roberts and Allison Brie. Click where? Here.