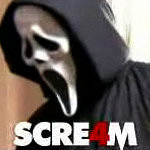 Back in August we told you the Scream 4 teaser trailer was coming in November. And unless it's the hush-hush footage showing at Spike TV's Scream Awards (taping Saturday night, so we'll know soon enough), you can still count on November. But we now know exactly how long it will be plus some other very minor details…
According to Canada's Recently Classified Trailers, Scream 4's teaser was classified on Friday as PG (cue hysterical reactions, but has nothing to do with movie rating – likely there is little to no gore in the trailer, that's all) and a runtime of one minute, twenty two seconds.
Alliance Films is handling the trailer for Canada – you may recall, Alliance/Universal distributed the recent Scream Franchise Collection blu-ray set over there.