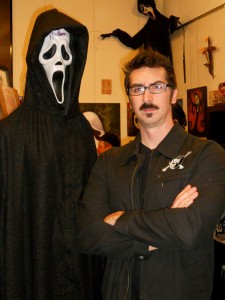 Rue Morgue's have conducted a short but illuminating interview with Ryan Turek, writer/director of Still Screaming: The Ultimate Scary Movie Retrospective.
What was the response like from those involved in the series? Were they eager to talk about their experiences on the films?
So far, they've been terrific. The biggest hurdle was ensuring Dimension Films was cool with the project. Anthony and I flew out to New York, while we were doing a few interviews out there, and met with Bob Weinstein. He understood what we were doing, got it and gave his blessing. Once that happened, we started reaching out to everyone involved in the three films, and I mean, everyone. I won't say it has been easy locking everyone down. Everyone involved in the trilogy still works and they have incredibly busy schedules, but we've been very successful getting who we want. I was thrilled that Wes Craven made time during his post-production schedule on Scream 4 to talk with us. On one hand, most of our interviewees are amazed a retrospective is being done because maybe they feel it may be "too soon," however, it only takes them a few minutes to realize we're approaching the 15th anniversary of the first film's release.
Turek's other project, Unearthed: The Hellraiser Saga is also touched on. Read the full interview here: Sinister Seven: All about the Scream documentary Still Screaming