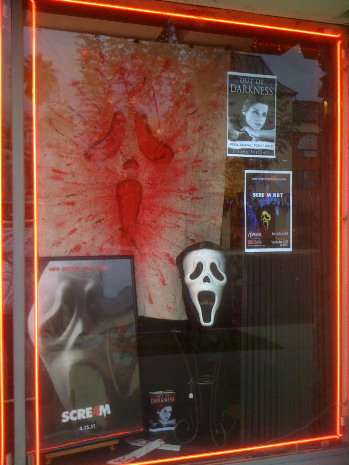 In a piece by Bloody Disgusting covering the Scream 4 Art/Prop Exhibit, comments by FX Man Gary Tunnicliffe indicate numero quatro is by far the goriest yet (a more grounded version of the carnage of Kill Bill is used as an analogy), and with some extremely lengthy death scenes that sound in the vein of what poor Casey Becker endured.
There are some juicy reveals in the article, including the semi-spoilery nature of two bloody aftermath scenes (we say semi because the gender and general set-piece is revealed in both cases). We have warned ye!
Propmaster Skip Crank also offers some tantalizing nuggets, such as: there are special cast members in the movie that we have no clue about. Keep that in mind next time you think you already know too much about Scream 4.
Go ahead and read the full article.
Delivering further coverage of the exhibition that you will want to check out are Shock Till You Drop who have some stunning HQ photos of key displays (click here) and Massive Hysteria who went on a snapping spree right here.