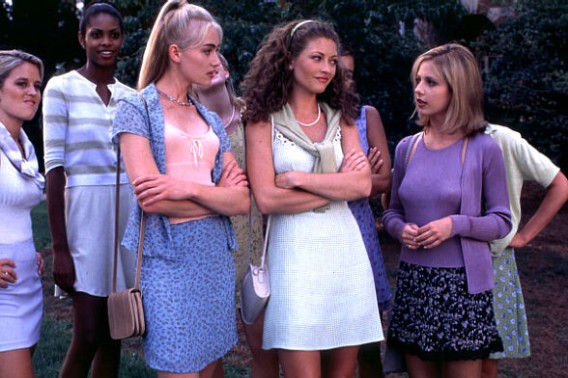 While Scream was a comparatively intimate ensemble film, Scream 2 opened the story up to the considerably larger world of college. This required characters to be juggled to maintain focus, such as Cici (Sarah Michelle Gellar) who was to have an introductory scene which showed her conversing with fellow sorority girls Lois & Murphy.
However when the Randy/Mickey classroom scene was required to be reshot, Cici was dropped into the revamped scene, arguably a better introduction for the character. Two birds, one stone. The aftereffect of this meant that the sorority girl sequence was now redundant, and was removed accordingly.
For those curious about the content and context of the scene, this excerpt from Kevin Williamson's shooting script closes the book on longtime speculation.
RANDY
I can't hear.  I'm moving closer.
Randy walks off, passing LOIS and MURPHY.  They stand talking to a young sassy girl, CICI, and some other sorority girls.
CICI
Which one is she?
LOIS
(pointing to Sidney)
Over there.  The angst-ridden one against the wall.
CICI
That's so cool.  I didn't know she went to Windsor.
MURPHY
We have our own little celebrity victim.
CICI
Has she pledged a sorority yet?
LOIS
Just back off.  We got her.
Lois shoots her threatening eyes as she saunters off with Murphy.  Cici watches them go.
CICI
Starfuckers.
Lois and Murphy make their way to Sidney and Hallie.
LOIS
Hello, girls. Enjoying yourselves?
Next time you watch Scream 2, you should find it easy to spot where the snip was made. Do you think this would have made a better introduction for SMG? Sound off below.