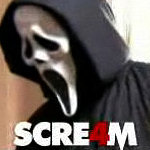 And so the countdown begins. Not a literal countdown, mind you (that would just make the long wait seem longer) but today is noteworthy as we have exactly four months left to wait until Scream 4's April 15th theatrical release.
Four months may be a third of one year, but trust us – it will fly by. What was happening with Scream 4 four months ago? Take a look at our archives for that week and find out.
Seems like yesterday, no?
With the ADR phase recently begun, the movie is truly in its twilight stages of construction. That doesn't mean Dimension will just let it sit on a shelf till April 15th – there's always the dreaded MPAA process, for one. Genre fans have had a great run the past ten years when it comes to on-screen grue, but Wes Craven has many times been particularly targeted throughout his career (if you saw My Soul To Take, let us know how red it was – that's likely a good barometer).
If we wanted to get particularly panicky, it would be over the fact that The Weinstein Co's drama Blue Valentine recently had success challenging the the MPAA, overturning the awarded NC-17 into an R. Surely the ratings board won't be looking for payback…
Expect the rest of December to be quiet on the news end – though it's business as usual at Scream-Trilogy and we will continue to bring you material to peruse no matter the news quotient. With the fresh new year around the corner, expect things to pick up for Scream 4 in the news around Jan-Feb. And once the publicity machine kicks into overdrive around March, those dry periods will be quickly forgotten.
And remember, one year from now you will own the Scream 4 DVD or Blu-Ray and have watched it at least twenty times!